We have requested a meeting with the engineers and geologists involved with the recent "extraordinary", "fascinating" and "unusual" findings regarding the Prehistoric Coastline – the Ruislip Bed right underneath our streets. Something that has been discovered following recent Ground Investigation (GI) works in the area.
We have previously requested that the outcome of the Ruislip ground investigations were shared with us. We were told it wasn't likely we would be able to have that information as the GI's weren't being carried out specifically on our personal properties – and, that since we aren't engineers,  we probably wouldn't be able to understand the results.
Despite this, it appears some of those findings have now been made available to the general public and the media – without any prior indication to community representatives in Ruislip that this information was going to be released. Frustratingly we have met with HS2 numerous times in the weeks before the press release!
We have a long history of issues relating to tunnelling and settlement which has caused significant mistrust. We felt 'misled' about tunnel depths in Ruislip, with discrepancies which only came to light after we had petitioned the House of Commons Select Committee. We have never had a truly reassuring update on how settlement has been measured and whether special circumstances in our area have been taken into account.
There has certainly not been any recently updated information. The Guide to Settlement is dated 2015 and has not been updated despite repeated requests.
The new archaeological revelations obviously give rise to more concerns about exact tunnel depths and settlement predictions for the properties that are unlucky enough to be live close to or above the tunnel.
At the House of Commons petitioning phase, Lottie Jones specifically asked whether settlement predictions had been made on the assumption that Ruislip sits on Lambeth Group and /or London clay, as per Professor Mair's presentation to parliament. At the time, her question was deemed to be irrelevant and she was dismissed for questioning such detail.
She was reminded that Cross Rail and the Jubilee Line Extension were the standard by which the future of HS2 should be based. It's now clear that these comparisons cannot be claimed to be relevant examples as we are dealing with a newly classified type of underground clay that will be affected by HS2 tunnelling.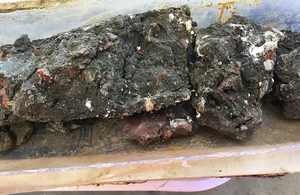 We would suggest that this detail is particularly significant now and that the subject needs to be revisited for clarity – for many Ruislip residents.
We are particularly concerned that settlement predictions for Ruislip have been based on detail that we cannot rely on.
This yet again raises the issue of the provision – or lack of – 'before and after surveys' being available to all home homeowners above or close to tunnels in Ruislip. At present, only those properties deemed to fall into the category of being predicted to be affected by 10mm or more of settlement, are eligible. These predictions now need to be reviewed – as does the criteria for eligibility for settlement deeds and surveys.
This situation also highlights our ongoing concern that all homeowners above and close to tunnels should be directly contacted by HS2 Ltd. to explain the implications of tunnelling on their properties, along with clear information about settlement deeds and surveys.
 HS2 response (March 2018) – "As you know, ground investigation surveys are part of developing the route design of the railway. These survey (sic) will help us to understand more about the ground where the railway will be built as it is vital to know about the soil before construction begins. The "Ruislip Bed" discovery is part of this ongoing work."
They have also agreed to schedule a meeting on this matter. We'll keep you posted.
Meanwhile if you are really interested in clay you can watch HS2's YouTube video about it all here. Personally we would rather they spent their resources on the people most affected by such discoveries and told them first.